The SFCC family recently lost long-time member Bill "Bank" Ryan.  His friends and members of the Orange Pack committee purchased a granite memorial bench that was installed near the first tee at Seneca Falls Country Club. The bench was dedicated on Thursday, June 6, 2019 in front of his family and friends. You can read more about Bill Ryan's amazing life below the photos of the dedication ceremony.
G. William Ryan (1941 – 2018)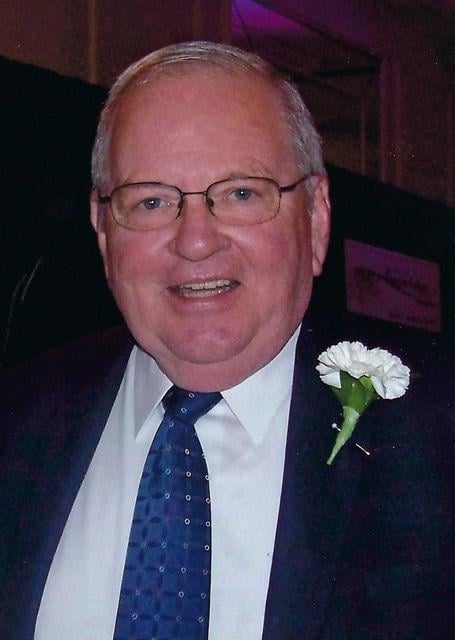 Bill was born in Auburn, the son of the late Daniel and Mary Conaughty Ryan, and was a lifelong resident of the village of Union Springs. He began his working career as a teenager at the local Red and White store, where he developed a strong work ethic and found that he enjoyed working with the public. He graduated from Union Springs Central School in 1959. He joined the staff of the First National Bank of Aurora, which would later become Cayuga Lake National Bank in 1960.
In 1964, Bill was drafted into the U.S. Army. Following his discharge from the Army in 1966, he returned to the Bank and was appointed Assistant Cashier and was then promoted to Vice President/Cashier. In 1975, he was named President and CEO of CLNB and at that time held the distinction of being the youngest Bank President in New York State. In 2001, he was named Chairman of the Board of CLNB, which was and remains the only independent banking institution in Cayuga County. Bill is affectionately known as "Banker Bill" by his family, friends and bank customers. He always greeted this term of endearment with a smile.
Bill has made many contributions to the State and National Banking Industry: He served as Chairman of the NYS Bankers Association, Chairman of the NYS Bankers Retirement Committee, and a board member of the NYS Independent Bankers Association, American Bankers Association, and Community Council. Bill had a remarkable banking career of over 58 years, 43 of which he was the President, making him one of the longest serving bank presidents in New York.
Additionally, Bill was dedicated to his community. He served on the Auburn Community Hospital Board of Trustees and the Cayuga Community College Board of Trustees. He was a member of the Board of Directors of Bluefield Manor, Martens Farms, Jacobs Press, and the Salvation Army. He also served as the first Secretary/Treasurer of the Springport Fire District and as Treasurer of the Village of Union Springs. He was a member of the Walter T. Conley Post #1107 American Legion, Knights of Columbus, SMS Lodge, Seneca Falls Country Club, and the Balloons Tuesday Night Board. He was a past member of the Union Springs Lions Club.
Bill was an avid sports enthusiast. He enjoyed golf, NASCAR, and Yankees baseball. His favorite pastime was following the Syracuse Orange football and basketball teams. He was a passionate fan and loved traveling to games home and away.
Bill received many honors throughout his life. They include the Operation Excellence Dinner sponsored by Auburn Community Hospital and Tyburn Academy honored him for his contributions to Catholic education. The Warren Salem Town Lodge #147 honored him with a community dinner that resulted in the Mayor of Union Springs designating June 28th as Bill Ryan Day in perpetuity. Most recently, the Board of Directors of Cayuga Lake National Bank presented him with a resolution honoring him for his 58 years of leadership at the institution.
He is survived by his beloved wife of 51 years, Ann Williams Ryan; his children Mark W. Ryan (Dana) and their children Ehran and William Pierce of Union Springs, Nancy Walter (William) and their children Amanda and Ryan of Auburn, Scott M. Ryan and his son Eric of Union Springs, and Terri R. Culver (Jeffrey) and their children Rachel and Michael of Union Springs; a brother, Robert T. Ryan of Union Springs; a sister, Libby Ryan Ward of Auburn; a sister-in-law, Judith W. Lofft (Kenneth) of Jordan and several nieces and nephews and his lifelong friend Robert L. Martens.
Also: